When it comes to making the prefect espresso shots, Breville has it down. I have been a loyal Breville espresso machine owner for well over five years now, so I wanted to take some time and share some information about my favorite Breville espresso machines. We are going to compare Breville espresso machines, and take an in-depth look of their features.
Comparing Breville Espresso Machines
Breville is an Australian brand that offers a lot of household appliances like kettles and sandwich makers. It's also famous for its high-quality espresso machines that it started producing in 2001.
Today we are going to compare the most popular Breville espresso machines, the Breville Barista Express Espresso Machine, the Breville Barista Pro, and the Breville Barista Touch Espresso Machine.
Breville Barista Express Espresso Machine
Breville Barista Touch Espresso Machine
Breville Barista Express Espresso Machine
Breville Barista Touch Espresso Machine
There is one gigantic difference between these three espresso machines. The Barista Express is Semi-Automatic, the Barista Pro is also Semi-Automatic, and the Barista Touch is Automatic.
You are probably wondering what this actually means, since these terms are thrown around a lot when it comes to espresso machines.
An automatic espresso machine eliminates the need for you to control everything. It will grind and control how much coffee you need to put into the portafilter.
The portafilter is just a fancy way of saying the arm you put the coffee into, by the way.
It will also control how long it takes to make the shot for the optimal drink you have specified, and it will froth the milk to the pre-set specifications.
A semi automatic espresso machine will require you to figure out the right settings for how much coffee you want to grind, how coarse or fine the grind is, and how long you froth the milk.
This can take a bit of trial and error, but once you figure out how you like your coffee you are pretty much set.
Let's take a closer look at each of these wonderful machines. We'll also help you decide which one is best for you.
Breville the Barista Express Espresso Machine, BES870XL Review
This machine comes with a built-in burr grinder that allows you to grind your favorite coffee beans to the desired texture. The fresh coffee ground will be directly delivered to the portafilter to provide excellent taste every single time.
Made of stainless steel, the built-in grinder saves your money and time. The half-pound hopper is enough to provide you with fresh coffee whenever you like. This machine has a 2-liter water reservoir.
Changing the size of the particles of the ground coffee is possible. The burr grinder works with all types of coffee beans.
For optimal extraction, this machine features digital temperature controls. Moreover, you can customize your espresso shot by adding foam milk to create the perfect latte thanks to the micro-foam milk wand. The wand swivels in 360 degrees, so you can explore with latte art.
You can use your machine to prepare single or double shots with a velvety feel and a creamy texture. You can activate automatic or manual operation for the best results. It weighs 23 pounds.
As a semi-automatic machine, you can benefit from the programmability and personalization options. However, there's no sensor that tells you about the amount of water available for your drink or the precise temperature of the milk.
Breville Barista Express Grind Settings
When it comes to the Breville Barista Express grind settings there are two things you really need to be concerned about:
The best settings for Breville Barista Express you end up using will be highly dependent on the espresso beans you are using, and may take some trial and error.
Here is my recommendation for finding the best settings for your beans with Breville Barista Express:
Start with both Grind Amount and Grind Size set to values in the middle of their range.

From there, be sure to pay attention to the Espresso Range of the Pressure dial, and of course the taste of your shot.

If you are under the Espresso Range, your grind is too coarse.

If you are over the Espresso Range, your grind is too fine.
For example, I can tell you that my daily bean uses a grind size of 6, and I have the grind amount set just after the dashed region of less. With these settings I have found I don't need to use the dose trimming tool after tamping
One of the best indicator of good settings is if when making your shots, is that the Pressure dial on the front stays in the Espresso Range during extraction. You can tell extraction is happening because the sound of the machine changes, and you will soon after see the shot coming out of the machine. The second best? If you like how it tastes.
What We Like
Built-in burr grinder.
Adjustable size of the ground particles.
Single and double shots.
360-degrees swivel froth milk wand.
What We Don't Like
There's no sensor to tell you about the amount of water in the reservoir.
You can't adjust the temperature of the milk.
Get more information on Breville the Barista Express Espresso Machine BES870XL
Breville Barista Pro Review (BES878BSS)
The Breville Barista Pro is just an all around upgrade to the Barista Express. It features a faster heat up time, and a digital control system compared to the analog controls of the Barista Express. It has a slightly rounded design and generally just has cleaner lines. As far as functionality goes, you're getting all of the power of the Barista Express, along with some convince features.
This machine boasts an amazingly powerful built in burr grinder, just like the Barista Express, and is uses an almost identical brewing process and mechanism.
What We Like
Built-in burr grinder.
Adjustable grind size
Easy to use steam wand
Digital control panel
What We Don't Like
No water tank sensor
Milk settings are not adjustable
Get more information on Breville Barista Pro Espresso Maker
Breville Barista Touch Review (BES880BSS)
With a premium price tag, this machine offers every coffee lover everything they hope for. You can prepare different types of coffee drinks in simple steps.
It features a built-in grinder, and you can adjust the coffee temperature, strength, and the texture of the milk for the perfect taste. Once you've found the perfect setting, you can save up to 8 different profiles for a customized drink that doesn't take much time or effort.
With a single-touch coffee grinder and touch screen, you can customize your coffee drinks using your most favorite roast. There are several preprogrammed drinks that you can enjoy with hands-free operation. The machine weighs 25.7 pounds and has a reservoir with a capacity of 2 liters, so it's not suitable for a compact countertop.
The milk frother wand allows you to change the temperature and texture for different drinks and latte art. The thermojet heating system will enable you to reach the perfect extraction temperature in 3 seconds.
Moreover, the digital temperature control delivers the right temperature instantly. Due to the design of the boiler, fitting the filter can be a bit challenging.
Breville Barista Touch Grind Settings
When it comes to the Breville Barista Touch grind settings, there are two main things to think about:
Grind Duration (how long the machine grinds for)
Grind Size (the fineness/coarseness of the grind)
These may vary a little bit based on the bean you select, so let's take a closer look at each of these settings.
When it comes to the grind duration, there are default settings for single and double shots of espresso, with the ability to also create a custom duration. You can also manually grind without using the duration setting, by simply pressing the portafiler in and not releasing it, but holding it until the desired amount of grids has been produced.
Quite honestly, the default single and double grind durations will suit many users.
The grind size will really be specific to the bean you are using, and it may take a few times to figure out the right grind size. Here is some advice taken directly from the Barista Touch user manual:
If grinding coffee beans, the grind size should be fine but not too fine. The grind size will affect the rate at which the water flows through the ground coffee in the filter basket and the taste of the espresso.

If the grind is too fine (looks like powder and feels like flour when rubbed between fingers), the water will not flow through the coffee even when under pressure. The resulting espresso will be OVER EXTRACTED, dark in color and bitter in flavor.

If the grind is too coarse the water will flow through the ground coffee in the filter basket too quickly. The resulting espresso will be UNDER EXTRACTED and lacking in color and flavor.
With these guidelines, I like to start right in the middle of the range, and either go finer or coarser from there. Be sure to remember the perfect number for your favorite espresso drink, because you can also use the internal grinder to grind coffee for cold brew!
What We Like
Automatic machine with a built-in burr grinder.
Preprogrammed coffee drinks.
Up to 8 personalized profiles.
Adjustable milk frother.
Hands-free operation.
What We Don't Like
The machine is quite expensive.
Due to the tight fit, installing the filter can be challenging.
Get more information on Breville Barista Touch Espresso Maker BES880BSS
Which Breville Espresso Machine Should I get?
These are the three most popular (and most cost effective) Breville espresso machines. They are fully featured with integrated grinders and milk frothers, and all come in under $1000.
Let's compare our Breville espresso machines one more time:
Still not sure which is the right one for you? Let's compare these models.
The B
arista Touch vs Barista Express
When it comes to which Breville espresso machine is best, we really need to understand the difference between Breville espresso machines.
Looking at Barista Touch vs Barista Express, the Barista Touch is much more automatic, since you can preset your drink, customize settings, and basically have your favorite espresso drink with the touch of a button.
The Barista Express is more manual, especially when it comes to milk frothing.
The Breville Barista Express and Breville Barista Touch are two of the hottest Breville espresso machines out there. They are both reasonably priced for what they offer, and will create a delicious espresso or espresso beverage.
It really comes down to how much trial and error you want to have to deal with. If you want to be guaranteed the prefect drink every time, then choose the fully automatic Breville Barista Touch.
If you like a more hands on approach choosing the Breville Barista Express .
Barista Express vs Barista Pro: Which Wins?
We've established many times that the Breville Barista Express is probably one of my favorite espresso machines in the world. It makes simply delicious espresso, and comes in at a reasonable price. Breville Barista Pro clocks in at about one hundred dollars more when it comes to the list price and has a few major convince features. First, it heats in just three seconds, and it also has a digital control panel where you can clearly see your grind amount and grind size.
The Barista Express has does not have these features and uses an analog control system, so if you knock the knobs while cleaning, you'll find your next shot is slightly off before you return it to your desired settings. This is actually something I do all of the time when I'm cleaning the stainless steel exterior.
The only downside to the Barista Pro is that it does not have the simply very cool looking analog pressure gauge of the Barista Express, it is replaced with a digital animation.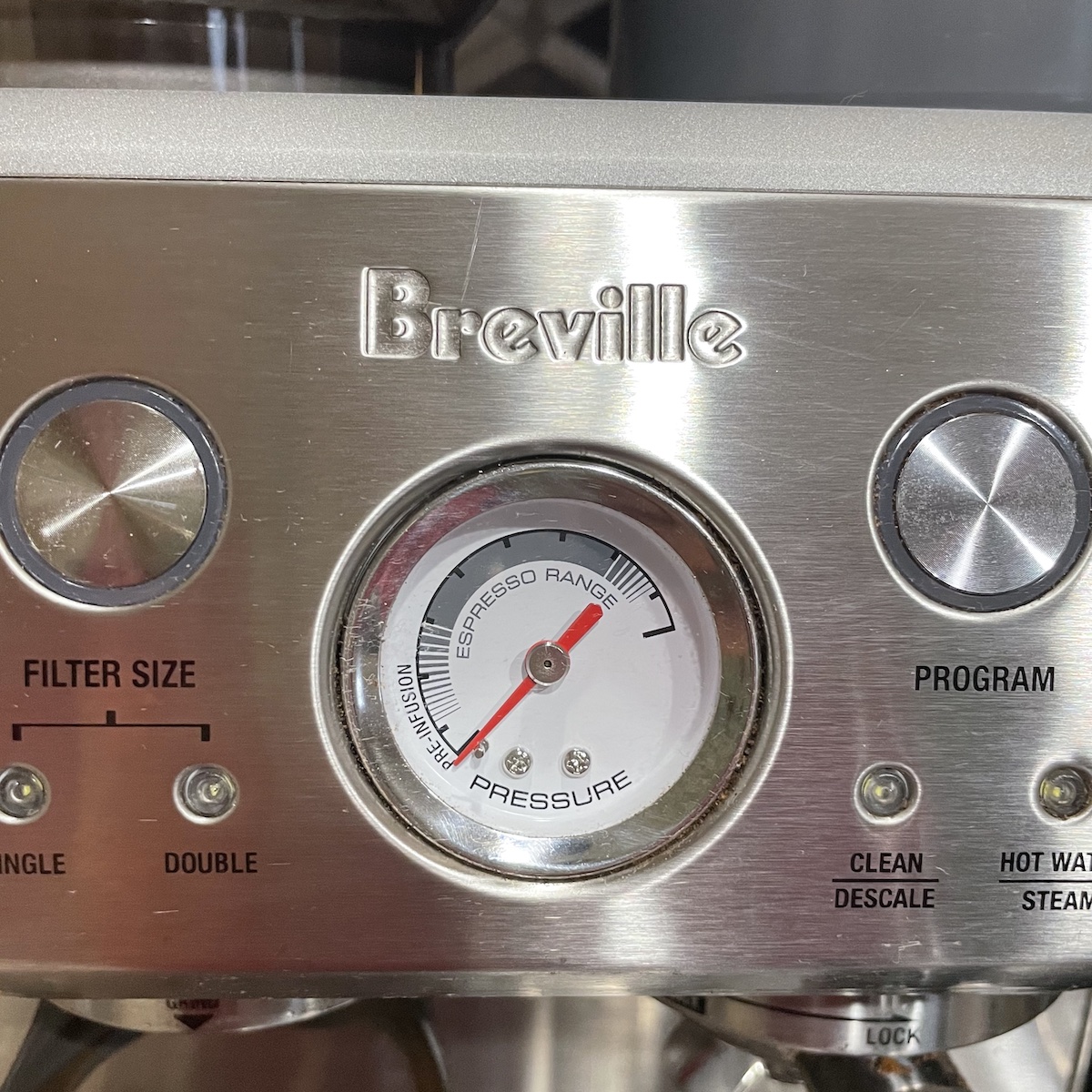 Would I buy a Barista Pro instead next time? Probably not. I've never had a problem waiting for the machine to heat up, even in the earliest of mornings, and I really will miss that cool looking pressure gauge when the espresso shot is being made. That being said, if you're going to be experimenting with many different types of espresso beans, the digital display for the grind amount and size will make your life much easier.
You really can't go wrong with either one!
Barista Touch vs Barista Pro, Which to Pick?
If you're between the Barista Touch and the Barista Pro, you're looking at about a two hundred dollar price difference, with the Breville Barista Touch being the more expensive model. The Barista Touch brings a couple of great features such as a touch screen display with the ability to select the type of drink you would like. If you're looking for the quickest and easiest way to make an espresso drink, then the automatic milk frother will help you out with that. Both machines feature a three second heat up time, and digital displays.
If you would rather froth your milk your way, then the Breville Barista Pro is the one for you.
No matter which Breville espresso machine you choose, you will be drinking delicious espresso in no time.